Over the Easter holidays I took a trip down to England to visit my family. My parents, sister, and oldest daughter Stacey all live in Staffordshire. Stacey has also been getting interested in photography over the last couple of years, and so on Easter Sunday we went into Birmingham city centre hoping to make some interesting photos. We found the car park that the app on my phone said would enable the car to be recharged while we were out & about, but on arrival it looked like that plan was already going sour as the charger wanted a smart card to activate it. Full of hope, I called the helpline number, not really expecting anything other than a recorded message informing me of their office hours, but no…a real person answered. Not just any real person mind you, no, a real live helpful person who was able to start the charger remotely for me. Thank you to Plugged In Midlands/Chargemaster.
After leaving the car park there was no alternative, but to see the Selfiges building. I'm a bit of a fan of bold, modern architecture, but I found this building quite challenging. Not just photographically, but also aesthetically. If some of Glasgow's modern buildings are the spaceships of 1950's sci fi, then this building has to be The Blob!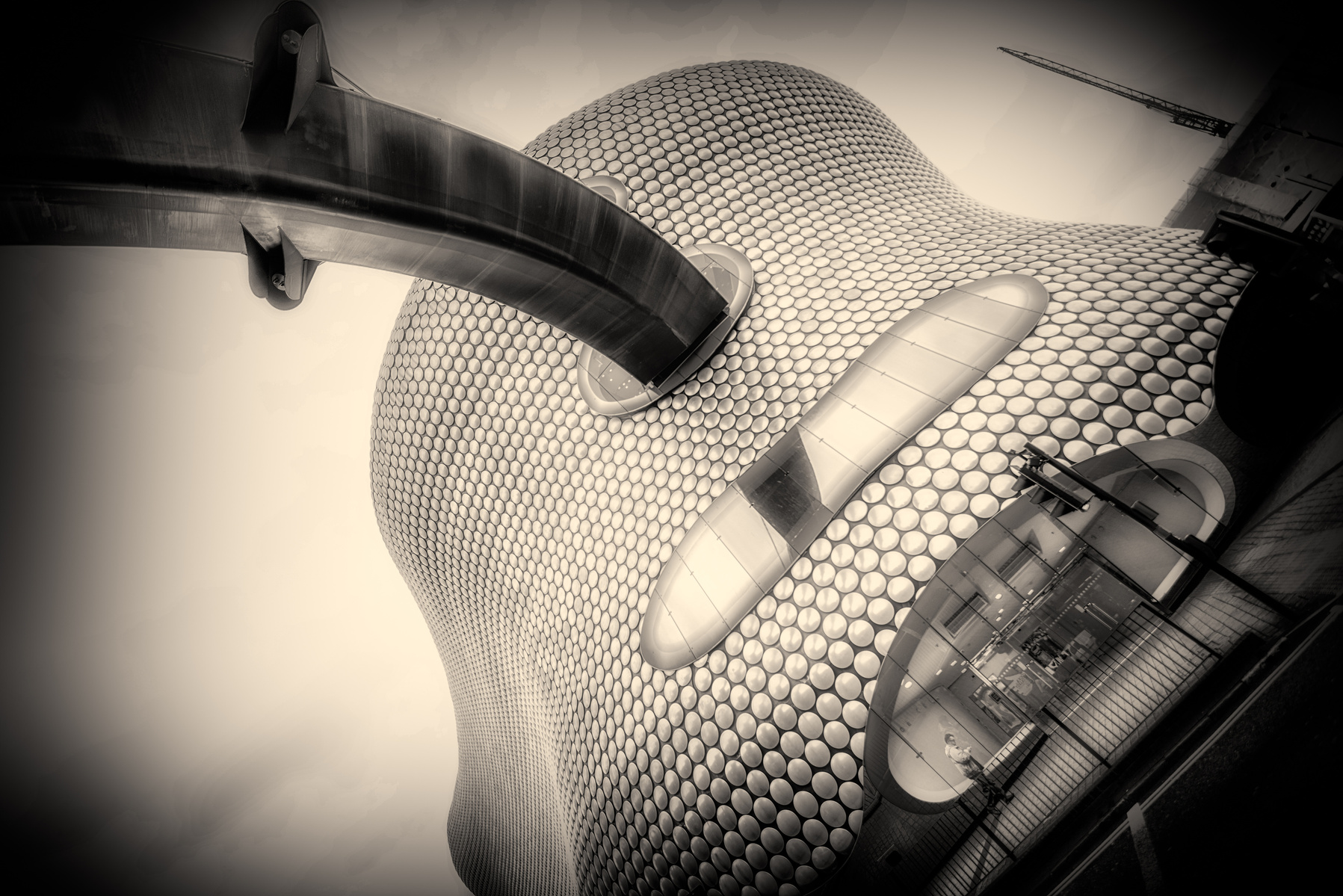 Sorry about the crazy angle, I was running away at the time. It was already devouring the footbridge to the car park, and I don't know what happened to the guy in the photo checking his phone…probably never knew what hit him. Poor bugger.
After escaping from The Blob, Moor Street Station was the next location, and its retro styling was like stepping back in time. I felt that there was a great photo to be made here, but it eluded me on the day. I did like the look of this ramp down to the platform and waited for a few minutes for someone to go up or down. Easter Sunday obviously isn't Birmingham's busiest day of the year though and rather than die of boredom waiting for me, Stacey offered to walk down.
We didn't have any kind of plan where we were going so we just wandered. This building used to be the Fox & Grapes pub, but I think it was already unoccupied before it caught fire.
One of my goals when taking photos in a town or city is to try to find images that represent the mundane & everyday aspects as much as the landmarks and other cliché shots. I do like well done street photography, although I do see a lot of photos taken in the street around the world that seem to have very little thought put into them and which as a result don't inspire me. One of the photographers who I think makes some excellent pictures is the American John Free, and I often aim to follow his advice when choosing how I'm going to make the photograph look interesting.
This is a taxi driving through the tunnel at St Martin's Queensway.
Say cheese for Stacey!
Where New Street Station used to be there's now some kind of shiny alien thing. It appears to be inanimate, but that eye is taking everything in. I took the opportunity to take some photos of the people around reflected in its outer skin. Mirrors can be so unkind though. Sorry Stacey…
Talk about being under the spotlight! This unusual lamp is outside the Mailbox. I like the way the red is the only accent against the relatively plain background.
We eventually found our way down to the canal basin at Gas St. I took a few photos, but nothing really came out the way I had hoped. With our feet aching we headed back to the car after a fun day together. Birmingham has plenty to offer, and is one of those places that needs multiple visits to get a feel for how to get the best out of it. Watch out for The Blob though!